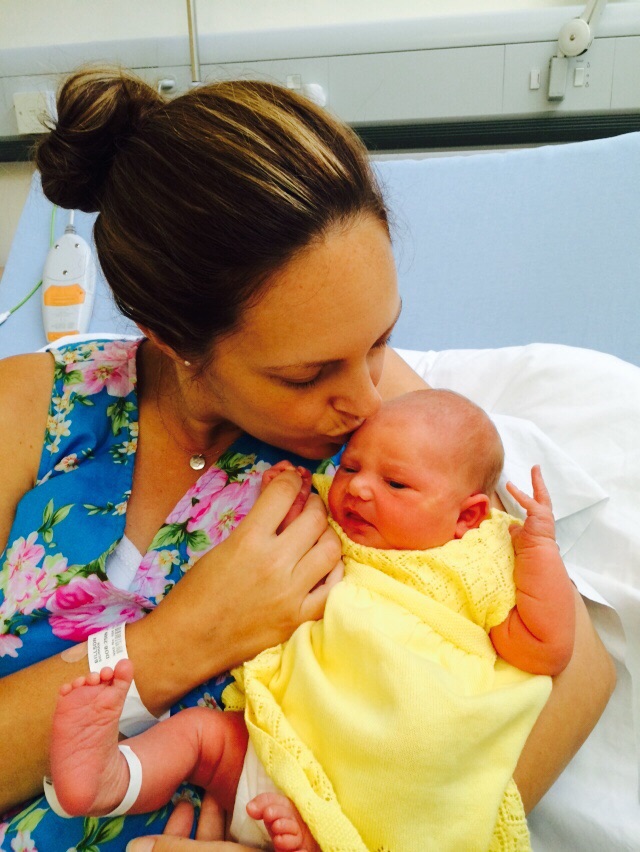 Hi Nikki,
As you know I went to be induced at Frimley hospital on Thursday 23rd, the pessiary worked too well & the contractions were too close together & intense, little one however, was chilled out throughout the process! So they took it out Thursday evening & decided to begin the gel part of the induction on Friday morning.
Friday again after the gel, the contractions were intense but not un-manageable but they faded in the afternoon and felt worse by the midwives informing me I had made no progress, this then sent me into a bad place with tears & a tiny tantrum! Whoops.
I spent the next few hours though contemplating my next step & refused the 2nd round of gel to review it all on Saturday morning. Then at about 7:30pm Friday night I sat up in the hospital bed & went straight for the bathroom (where you recommended Nikki!) dragging my husband along.
We locked ourselves in, turned the lights out, put some music on & filled the bath right up as I began to feel strong contractions, different from before starting up…the environment was perfect. Focusing on the ribbon breath between contractions & during them making a vowel sound on my out breath within the space of 2 hours I had dilated 3cms.
I then got moved to the labour ward at 11:30pm at 7cms dilated & kept refusing the gas & air as it dried my mouth out too much! The midwife respected my "active birth" labour positions & tried helping me into a few of them. After an hour I was fully dilated & ready to push and didn't I push!! I felt quite detached from everything around me at this point & was focusing on my body & baby it's quite a space to be in.
Unfortunately, after 2 hours of pushing i was beginning to tire drastically & began shaking with no sign of baby. My contractions slowed & were weakening so the midwife got me checked by a Doctor who informed me baby was facing back to back & turned to the side slightly…..it was a forceps delivery. At this point I knew my body was tiring & I wanted my baby to be safe, so into theatre I went and after everything drug free, I had to have a spinal tap to assist the delivery.
30 minutes & after two more pushes with the aid of the forceps, later…..On Saturday 25th my beautiful baby girl Niamh Elizabeth, weighing 7lb 8oz was placed on my chest & looking up at me.
Billy and I are so smitten & happy to be home-we were released Tuesday evening. We just wanted to thank you for all the advice & information you have given, to not only me during the classes but to Billy during the workshop you did with us at our home. It really did all help before, during and after the labour.
Thank you for everything Nikki I can't recommend you & your techniques enough 🙂 & I'm looking forward to the baby massage classes in September! 
Siobhan, Billy & Niamh xx
To book Pregnancy Yoga classes visit: http://www.mylittlebubble.co.uk/yoga/
To book Baby Massage Classes visit: http://www.mylittlebubble.co.uk/baby-massage-post-natal-yoga/