During my first pregnancy I became very interested in nutrition, and wanted to eat healthy food that was good for me and good for my baby.
I love food, and have always enjoyed cooking and eating well.
So when I stumbled upon a book called: 'Feeding the Bump' by Lisa Neal, I was excited.
The fantastic thing about this book is that it takes you through all of the recipes in handy categories: 1st trimester right through to Post-Natal. There are recipes to help with everything from morning sickness, to bloating, to your energy levels. And there is detailed information about individual ingredients, and what these do for your body and baby.
I particularly love the fact that the recipes contain hardly any sugar, making use of natural sugars from fruit or honey.
So, here is my favourite recipe from the book. It can be used throughout pregnancy and beyond. When I craved the extra sugar, I would add other things to it, such as dates, figs, and maybe, just sometimes (ok, most of the time), a bit of brown sugar sprinkled on top! Enjoy!
Healthy Breakfast Loaf – from 'Feeding the Bump' by Lisa Neal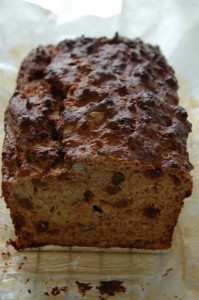 photo of loaf: toddlertastes
INGREDIENTS
3 ripe bananas
1 pear
1 cup plain, low fat yoghurt
2 eggs
½ cup brazil nuts, chopped
1 & ½ cups wholemeal self raising flour
1/2cup skim milk powder
1 tsp baking powder
1 tsp nutmeg
3 tsp cinnamon
1 cup oats, or rolled barley
½ cup raisins
½ cup oat bran
METHOD
1. Preheat oven to fan forced setting 180 degrees. Line a 20cm loaf baking tin with paper.
2. Mash bananas into a medium sized mixing bowl. Grate the pear into the same bowl. Add the yoghurt, nuts and lightly beaten eggs. Gently fold the ingredients together.
3. Sift flour, skim milk powder and spices into a large mixing bowl. Add oats, raisins and oat bran. Make a well into the centre of the dry ingredients and use a large metal spoon to gently fold through the wet ingredients.
4. Pour mix into a prepared baking tin.
5. Bake for 45-50 mins, or until bread is cooked through. Allow the bread to cool for 10 mins before turning out onto a wire rack to cool completely.
6. Slice and serve fresh or toasted.
p.s. it also freezes well, and toasts perfectly in the toaster – pop a slice in the toaster, spread with some butter, wrap in foil and eat on the way to work! delicious.