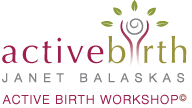 DATES: This workshop is run as a group workshop when enough people are interested.
Alternatively this workshop can also be run as a 3 hour workshop or as a part of a 6 hour Antenatal Course privately in your home.
The 'Janet Balaskas Active Birth Workshop' looks like this:
The Benefits of Active Birth
The Pelvis and how it's designed for birth
The Uterus and how it works
Understanding each phase of labour, the birth process and the hormones involved
The birth environment – creating the optimal space to birth
Breathing awareness and how to stay calm and relaxed
Voicing your fears about birth and letting them go
Induction
Active Birth movements & Positions for labour and birth, how to involve your partner
Visualisations and Affirmations (similar to those used in Hypnobirthing)
Massage techniques and pressure points for labour
Remaining active with medical interventions and exploring natural pain management options, including the use of water and other natural therapies (the Active Birth Handbook details other pain relief options such as Gas & Air, Pethidene etc)
Natural ways to get labour going if it slows down
The third stage of labour – delivery of the placenta, delayed cord clamping benefits
Welcoming your baby, the first hour and bonding
Each couple will receive a copy of the book 'New Active Birth' by Janet Balaskas to take home and keep. Plus handouts provided by me.
You will receive the Active Birth Handbook – 'Preparing for Labour & Birth' by Janet Balaskas
Cost: £120 PER COUPLE or £80 for a single attendee
Location: FARNHAM – Daniel Hall (Scout Hut) Long Garden Walk, Farnham, Surrey GU9 7HX
Parking: Please park in 'Upper Hart Car Park' (near the Baptist Church), opposite the Waitrose car park. It's 50p per hour
Time: 9.30am – 4pm – Plenty of breaks with Refreshments!
You are welcome to bring lunch with you and eat at the Venue (there is a kitchen on site) or there are Cafes and a Pubs nearby where you can get something to eat.
WORKSHOP DATES:
coming soon….
If these dates are not suitable, I can deliver the Workshop Privately in your home